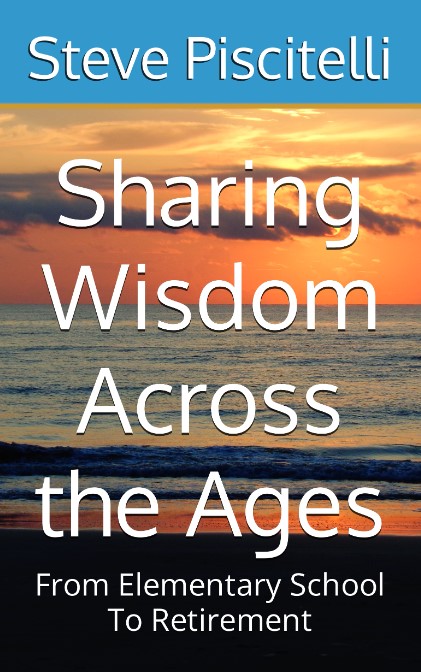 My newest book will be released on January 1, 2023. SHARING WISDOM ACROSS THE AGES: FROM ELEMENTARY SCHOOL TO RETIREMENT presents a non-scientific look at wisdom from seven-year-olds to people ninety and older. I am thankful to the many people who took the time to share their life lessons, advice, and questions.
The eBook is now available for pre-order. Click on: Kindle eBook pre-order
Order now and it will be placed in your Kindle or Kindle app on January 1, 2023, when it is released. The pre-order eBook price is $0.99.

If like me you do not have a Kindle, you can still read the eBook version on your own devices with a Kindle app. There is a link for the Amazon Kindle free
app on the pre-order page.
More than a book of decades, this is a book of people in those decades.
Whether you read this book alone, with a mentee, in a book club, or with your office colleagues, I hope it will stimulate deliberative dialogues amongst and between the age groups. We live in (have created for ourselves?) a time when the common ground looks ever more elusive. The go-to point often seems to dismiss differing viewpoints, failing to see that each brings a different perspective and unique wisdom to the conversation. This book provides a glimpse into those different perspectives. Rather than dismiss, let's attempt to understand. Beyond those conversations, this book may encourage your community to do a similar study to foster considered conversations about generational respect.
More pricing information:
The eBook (Kindle) will cost $.99 (99 cents!) from January 1 through January 7. It will increase in price after that time.

The paperback is not available for pre-order. It is also scheduled for release through Amazon on January 1, 2023. The price will be in the $8 to $10 range.