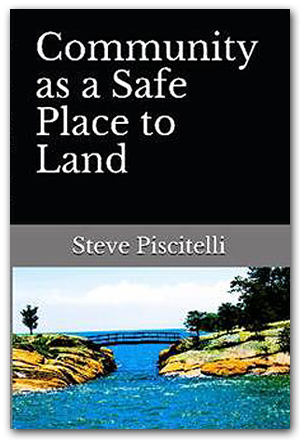 Another book brought to you by The Growth and Resilience Network®
Praise For Steve's Book: The Seven Rs (core values) invite the reader to think deeper about community. Clear, concise, easy to absorb, and well-defined…This work makes a powerful point that community building requires more than just living near one another…Accessible in style…realistic in content. It does not take a flowery view of community nor make it seem like the process of building community is simple or easy…When we follow the passion in our heart, I'm pretty sure it looks a lot like this book! It's alive!
Community as a Safe Place to Land has been released! You can get the Kindle e-book and paperback here.
A seven-episode podcast series complements the book. You can access these free episodes on this website (below) and on The Growth and Resilience Network® YouTube playlist.
My newest book addresses community development and resilience. Using seven core values and provocative questions, Community as a Safe Place to Land can become your guide for consideration, conversation, and collaboration. Make this a powerful resource for important discussions about your community.
What does community mean to you? Does community exist as a concept any longer? Or does the traditional concept need a transformation to reflect where we stand now, and more importantly, what the future holds?
The stories, observations, questions, and core values (The Seven Rs) presented in this book will enable you and your network(s) to examine how social networks create pathways for action. You will be urged to move beyond "why" we need a community to "how" we go about building and sustaining a community. And, you will examine what can break a community apart.
At its heart, a vibrant community provides an environment for its members to explore, learn, fail, and thrive. It provides a safe place to land.
You can get the Kindle e-book and paperback here.
---
Podcast Playlist
Seven transformational stories about community building and sustainability open each section of the book. Each story exemplifies one of the Seven Rs—one of the seven core values for community. Each transformational story has been recorded as a podcast episode for The Growth and Resilience Network® podcast channel. You will find a link to each released episode below. As new episodes become available, links will be posted.
Each full-length episode has three "teaser trailer clips" that provide brief snippets from the full podcast. Finally, at the top of the list, you will find a compilation podcast that features a brief clip from the seven full episodes below. This allows you to get a feel for all seven episodes in one brief "Best Of" episode.
---

BONUS "Best Of" Episode: Community as a Safe Place to Land (The "Best Of" the seven full episodes below.)
---

Episode #39: Facing the Worst. Preparing for the Best (Resilience)
---

Episode #39 (Trailer 1): Importance of Mindset
---

Episode #39 (Trailer 2): Surviving and Thriving
---

Episode #39 (Trailer 3): The Echo of a Voice
---

Episode #40: A Safe Place to Land (Relationships)
---

Episode #40 (Trailer 1): The Importance of "I Don't Know"
---

Episode #40 (Trailer 2): Vulnerability and Growth
---

Episode #40 (Trailer 3): Connect and be Relevant
---

Episode #41: The People: A Community's Most Important Resource
---

Episode #41 (Trailer 1): Thriving in Place in Being Who You Want to Be
---

Episode #41 (Trailer 2): The Value of Coordinated and Consistent Community Volunteers
---

Episode #41 (Trailer 3): Lead by Listening
---

Episode #42: Helping a Village Find Its Voice (Responsibility)
---

Episode #42 (Trailer 1): What is the New Town Success Zone
---

Episode #42 (Trailer 2): Building Trust
---

Episode #42 (Trailer 3): Building a Two-Generational Model
---

Episode #43: Trust as a Core Value (Relevance)
---

Episode #43 (Trailer 1): Listen and Remain Relevant
---

Episode #43 (Trailer 2): Authentic Belief and Caring
---

Episode #43 (Trailer 3): Understanding Life Purpose
---

Episode #44: Mentors for Music, Hope, and Rainbows
---

Episode #44 (Trailer 1): Neighbors Helping Neighbors
---

Episode #44 (Trailer 2): Confidence Building
---

Episode #44 (Trailer 3): Replicating a Community Event
---

Episode #45: Someone Has to be the Grownup in the Room (Reflection)
---

Episode #45 (Trailer 1): Truth to Power
---

Episode #45 (Trailer 2): Live the Mission
---

Episode #45 (Trailer 3): Kindness Over Righteousness