Steve's Latest Book!

Well, Roxie gets top billing this time. It is now available.
$2.99 eBook price. Print book ($9.99).
Here is what Roxie has to WOOF about the book: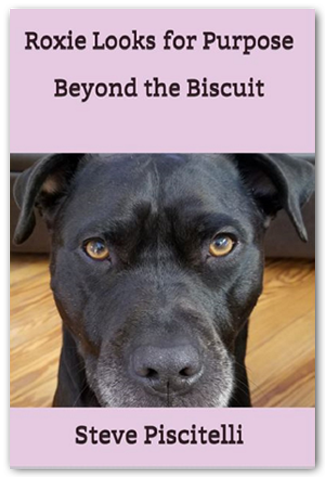 Hi, I'm Roxie. A dog. This is my story or, at least, a piece of it. Thank you for your interest.
The 52 short stories in this book share life as I see it from my paws and through my eyes. Hopefully, my observations will help you on your journey.
The biggest lesson I have learned is this: We all must learn to move beyond the biscuit—beyond immediate gratification—and discover the clues, lessons, and opportunities that surround us. To do that, though, we must pay attention.
I focus on where I am. The smells in front or to the side of me or the cool beach sand beneath my body. If a cat is nearby, I want to go up and get to know it. Of course, they ignore me. That's another story. (See Story #32.)
When my story started, I didn't have much going for me. You see, I was abandoned on the side of a road. I am not sure why or by whom. I don't remember much about my mother. I don't know when I was born. That person who left me must have known someone would help me. And someone did. In fact, more than one human has blessed my life.
Every time I smell, stare at, or paw something there is a reason. In part, this book will allow you to pause and reflect on your present moments. I hope my simple stories (52 of them) and insights will motivate you to ask deeper questions about your stories and to reflect on the who, what, why, and where of your purpose. Steve says for me it is "furpose." I think he makes words up.
My person, Steve, and I found each other for a greater reason than giving me a place to sleep and eat. You will learn that as the relationship I have with Steve continues to develop so does our purpose. It continues to evolve as I believe it does for all of us—canines and humans.
I am a work in progress. And so is Steve. And so are you. I offer a hearty "Woof!" to all of us as we, slow down, move beyond the biscuit, and embrace the wonders life has to offer.
Another book brought to you by the Growth and Resilience Network®.